Montpellier's Challenge Cup win came five years after winning the competition for the first time
Leicester (10) 17th
Tries:
Wells, meadow
Disadvantage:
Ford 2
Pencils:
ford
Montpellier: (10) 18
Tries:
Rattez, Goosen
With:
Paillaugue
Pencils:
Paillaugue 2
Leicester Tigers missed a first European trophy in 19 years as Montpellier celebrated a lively Challenge Cup final at Twickenham.
Vincent Rattez took a step of his own to put the French in the lead.
Leicester's powerful pack and some clever kicks from George Ford helped Harry Wells and Jasper Wiese cross from close range when Montpellier dropped to 14 men and took a 17:10 lead.
But a penalty and a breathtaking attempt by Johannes Goosen brought the French victory.
After the relaxation of the Covid restrictions, only 10,000 fans were allowed to Twickenham, but despite the sparse settlement of the imposing London venue, the fans ensured a constant and surprisingly loud atmosphere and the intensity on the pitch was adjusted.
The tactical awareness of the British half of Ford was decisive when Tigers built a lead of 17:10 and was prepared for a first Challenge Cup victory despite an early deficit of 10: 3.
Ford can't drive Tiger home
Ford's slotted Tigers ahead, but Montpellier's positive start was rewarded when winger Rattez himself showed some good footwork to cross.
Rattez ran on to Anthony Bouthier's sweet kick and reached out his hand to touch down in front of Matias Moroni.
But Ford's dexterous and precise kick in a shoe-dominated match kept him in good field position, and despite missing his next penalty, Tigers tied after Montpellier sent Alexandre Becognee into sin for a collapse of a mouth.
An increasingly dominant pack created a powerful drive and with the French in complete disarray, Wells rushed over at close range.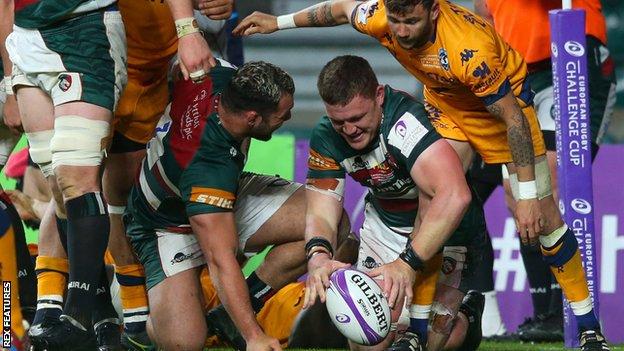 Jasper Wieses transformed attempt put Tigers at the beginning of the second half with 17: 10 lead
Injuries to wingers Guy Porter and Cyle Brink did little to disrupt Leicester's flow and they led for the first time when Wiese pooled up close as the 14 men of Montpellier moved forward with the Tigers' pace, strength and dynamism fought.
But the French made an impressive recovery, scoring the game's attempt to secure a second Challenge Cup title five years after their first success in competition.
After a jaw-dropping break from Bouthier, they did an excellent job of recycling possession from left to right, eventually making room for Goosen to cut into it and land for the all-important score.
Tigers responded in an increasingly violent final but couldn't force a penalty or open match chance to ensure their first major final since 2013 ended in victory.
Leicester flies halfway George Ford told BBC Radio Leicester: "We got a head start after 50 minutes but they pushed our way back in and turned him into an arm wrestling for the last 15 minutes and it just wasn't going our way.
"There are phases in games when you feel like you are up front and you want to maximize those chances. We are there as a team, but we have good positions in games, but we may not be entirely consistent when we do we are there.
"We're going to learn and we definitely want to be in the final again and on such occasions.
"It was honestly great to have an audience again and to feel the atmosphere again. We appreciate the support of the Tigers fans who haven't been to stadiums in the last 18 months and we hope that many more can come . " back."
Leicester: Steward; Porter, Moroni, Kelly, Nadolo; Ford, Wigglesworth; Genge, T. Youngs (Capt.), Cole, Wells, Green, Liebenberg, Brink, Wiese.
Replacement: Clare, De Bruin, Heyes, Henderson, Reffell, B. Youngs, Henry, Murimurivalu.
Montpellier: Bouthier; Vincent, Goosen, Serfontein, Rattez; Lozowski, Paillaugue; Forletta, Guirado (Capt), Haouas, Verhaeghe, Willemse, Ouedraogo, Camara, Becognee.
Replacement: B du Plessis, Rodgers, Lamositele, Duguid, J. du Plessis, Reinach, Pollard, N'gandebe.
Penalty box: Becognee, Guirado
Referee: Andrew Brace (Irish).
Touch judge: Frank Murphy (Irish), Chris Busby (Irish).
TMO: Brian McNeice (Irish).