Up to 2,000 fans were allowed to take part in several Premier League games in December
Up to 10,000 fans could be back in the stadiums by mid-May as part of the government's plans to get England out of lockdown.
Outdoor sports such as soccer, golf and tennis are allowed to resume in England on March 29th.
The plan to facilitate lockdown requires four tests on vaccines, infection rates, and new coronavirus variants.
"The turnstiles of our sports stadiums will be spinning again," said Johnson.
In an address to the nation later on Monday, the Prime Minister stressed that the introduction of the UK vaccination program had enabled the government to follow this path but that final decisions would be made "on a data basis".
Recreation centers, gyms and swimming pools can be open from April 12th.
Venues such as gyms, tennis courts and golf courses have been closed across England since the lockdown was announced on January 4th.
The government says it will hold a series of "pilot" events in April and the English Football League (EFL) said it will "talk" with the government about the potential of a small number of fans at the Carabao Cup. Final at Wembley on April 25th.
If the pilots are successful, "up to 10,000 people, or 25% of total seating capacity, whichever is lower" will be allowed into stadiums for sporting events, but not before May 17.
That could mean the FA Cup final on May 15 at Wembley will be played behind closed doors, as it was in August, although fans may be able to attend the conclusion of the Premier League, which is slated to end the weekend of May 22.
The delayed Euro 2020 competition starts on June 11th. Wembley will host seven games, including the final on July 11th.
Canceled for the first time since World War II in 2020, Wimbledon is slated for June 28 to July 11 with the Formula 1 British Grand Prix on July 18 at Silverstone.
What is allowed in England from March 8th?
Sports for children under the age of 18 can take place in the school as part of the educational offer or as part of the all-round care.

The home stay restriction will remain, but will be changed to allow people to go out to relax and exercise outdoors – with their own household, a support or childcare bubble, or with someone from another household . Social distancing and other safe behaviors should be followed.
From March 29th
Outdoor sports facilities such as tennis and basketball courts and outdoor pools can be reopened. Formally organized outdoor sports – for adults and under 18 years of age – can also be restarted and are not subject to gathering restrictions.
Not earlier than April 12th
Indoor leisure time (including gyms) that can be used individually or in household groups.

All children, regardless of the circumstances, can participate in all indoor children's activities, including sports. Groups of parents and children of up to 15 people (excluding children under five years of age) can restart indoors.
Not earlier than May 17th
Indoor group sports and exercise courses for adults.

Indoor sporting events can hold up to 1,000 people or 50% of the capacity of a venue, whichever is lower, while outdoor events can have a capacity of 50% or 4,000 people, whichever is lower.

There will be a special regime for large outdoor seating where the crowd can be safely distributed and which will allow up to 10,000 people or 25% of total seating capacity, whichever is lower.
No earlier than June 21st
Remove any legal restrictions on social contact.

Reopen the remaining closed settings and enable large events above capacity limits (as of May 17th).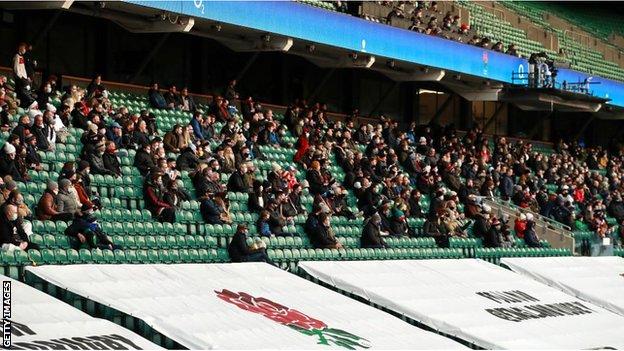 2,000 spectators followed the autumn Nations Cup rugby union match between England and France in Twickenham in December
"Very welcome" – response to government announcement
In a statement by the football association it says: "The FA is absolutely delighted to have fans returning soon.
"The game just isn't the same without them and we look forward to returning the full stadiums as soon as it's safe and possible."
Tim Hollingsworth, General Manager of Sport England said: "The Prime Minister's Roadmap for the Return of Sport and Physical Activity is very welcome and a clear recognition of how important it is to the country's physical and mental health.
"We know people are desperately trying to get back to the sport they love and the activities they've so badly missed out on, and now it's finally in sight."
The Lawn Tennis Association said: "We know that sport plays a key role in supporting the nation's physical and mental health, so his return will be a boost for the whole country and is very welcome."
"Tennis is clearly an inherently socially distant and safe activity. We would have liked the restrictions to be lifted immediately and we spoke out in favor of it. We are now focusing on the venues, coaches, officials and players in preparation to support the activities. " Outdoor tennis returns on March 29th. "
Jon Dutton, General Manager of the 2021 Rugby League World Cup, said he was "very encouraged" and added: "We remain positive and optimistic fans can take part in the tournament, which will take place in England in October and November 2021.
"We very much hope that this tournament, which will predominantly take place in many of the hardest-hit areas in the north of England, will play a role in the country's pandemic recovery plan and be the biggest and best rugby league world cup ever."
The Rugby Football Union (RFU) "Saluted" the announcement, saying, "This is good news for the game and for players, coaches and volunteers across the country who will again be able to enjoy the physical and mental health benefits of team sport."
The England and Wales Cricket Board (ECB) said: "The ECB welcomes the government's decision to allow the return of grassroots cricket across England in time for the start of the 2021 season. We will continue to work closely with the Welsh government on the return of recreational cricket in Wales.
"We are excited to see spectators return to the site from mid-May. Our leading venues believe they have the technology and expertise to bring back capacity masses and look forward to working with the government to find out how this can be achieved in a safe and controlled manner. "
However, both Swim in England and England golf expressed a bit disappointed.
Jane Nickerson, executive director of Swim England, said she had "mixed feelings" about being "delighted" to see the pools reopen but wanted the government to ban club activities from resuming at least 18 years of age May 17th reconsider.
England Golf said it was "extremely disappointed that the scientific evidence presented to the government showing how the sport can be played in a Covid-safe manner has not resulted in a return to the game date before March 29th".
Rules in Scotland, Wales and Northern Ireland
Non-contact outdoor sports like golf and tennis are currently allowed in Scotland and the government is hoping to publish an out-of-lock route in the coming week.
Under the current Wales restrictions, sports and recreational facilities are closed but up to four people from two different households can meet to exercise outdoors.
First Secretary Mark Drakeford has announced a minor easing of restrictions in hopes that the stay at home requirement can end within three weeks.
Indoor and outdoor sports facilities are closed in Northern Ireland, where lockdown has been extended until April 1st. The current measures will be reviewed on March 18th.