You don't really rate a Rolls-Royce. It's not like someone with $ 332,500 burning a hole in their pocket reads this or any other review and then decides whether or not to buy it Rolls-Royce GhostIf you want a Rolls-Royce and you are extremely wealthy, you don't need the internet or an auto journalist to tell you what to buy.
Other than that, the purpose of this "review" is merely to provide manufacturer-provided design and construction details while articulating my experience with some personal antidotes and takeaways – like telling you that the floor mats are so fluffy they feel like one Baby Seal gives you a foot massage. (Don't worry, Rolls-Royce uses lambswool for their carpets, but they're so soft that you can pretend it's seal skin if you want.)
Photo by Bailey Stone Barnard
I've ridden a few Rolls models over the years – the previous iteration of the Ghost (updated in 2014 but first released in 2009), the Dawn, and the Cullinan – and they're all perfect as far as I can tell. When you buy cars at this level, you are buying the best money can buy, and when you are in the market for the high-end sedan ever made, you are in the market for the new Ghost.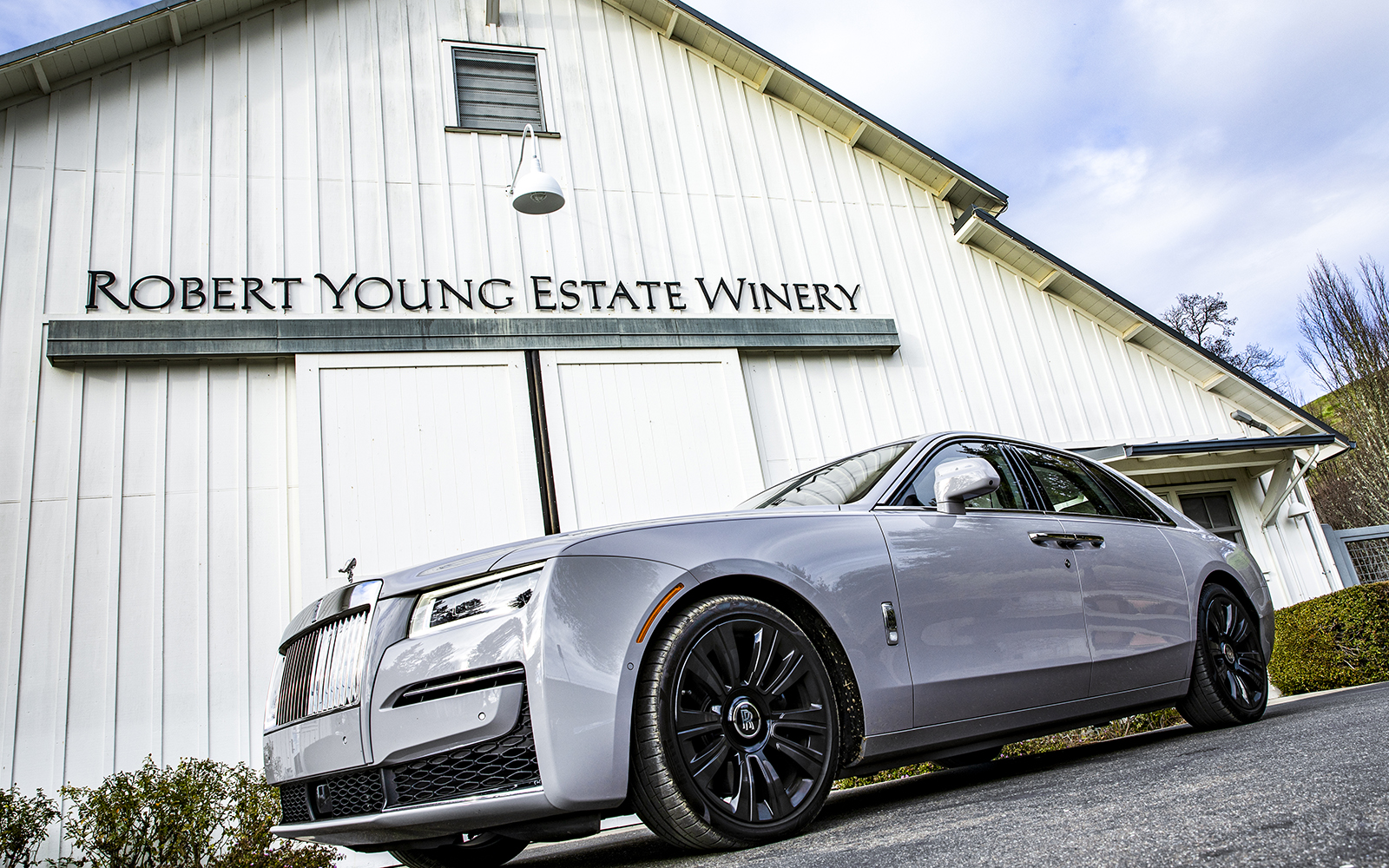 Photo by Bailey Stone Barnard. Special thanks go to the Robert Young Estate winery for allowing us to take photos on their property.
Like every Rolls model, the new Ghost has an impressive street and runway presence. As I drove it through Sonoma County's wine country north of San Francisco, I found it hard to ignore the awe and envy I received from pedestrians and other motorists. Starting with the design, the changes for the new Ghost may seem subtle, but they're actually a bit dramatic as they are from a brand known to evolve their designs over decades rather than every model year. Many reviews compare the Ghost to the BMW 7 Series Sedan (both brands are part of the BMW Group) as the previous Ghost shared some architectures with the 7 Series, but rest assured that the new Ghost is a major redesign and has more in common with its brothers Phantom and Cullinan than any BMW model.
Photo by Bailey Stone Barnard
To me, the most obvious differences between the new Ghost and previous iterations are the less pronounced lines on the hood of the new model, for which the von Rolls designers followed a design language the company calls "post-opulence." Everything is more subtle and reserved, with smoother lines and fewer breaks on the surfaces. This is also noticeable in the back half of the car. The sharper ridge lines that surround the large trunk trim are softer. The vehicle's aluminum body structures are hand-welded into large pieces, so there are fewer panel breaks compared to the previous version. Rolls also incorporated the grille more seamlessly, blending softer lines into the hood and bezel so it isn't quite as pronounced, and brushed the back of the grille bars so they aren't as reflective, while adding 20 LEDs under the grille highlight the grille lines. You really notice this at night or when it is cloudy which was during my review. These changes lead to an overall softer silhouette, which was particularly noticeable in the soft gray paintwork of the test car, whose hard lines and broken panels only pop out of the paintwork in certain lighting conditions. Even so, the car still attracts a lot of attention, maybe not as much attention as the previous design – and that's a good thing in a post-opulence world, right?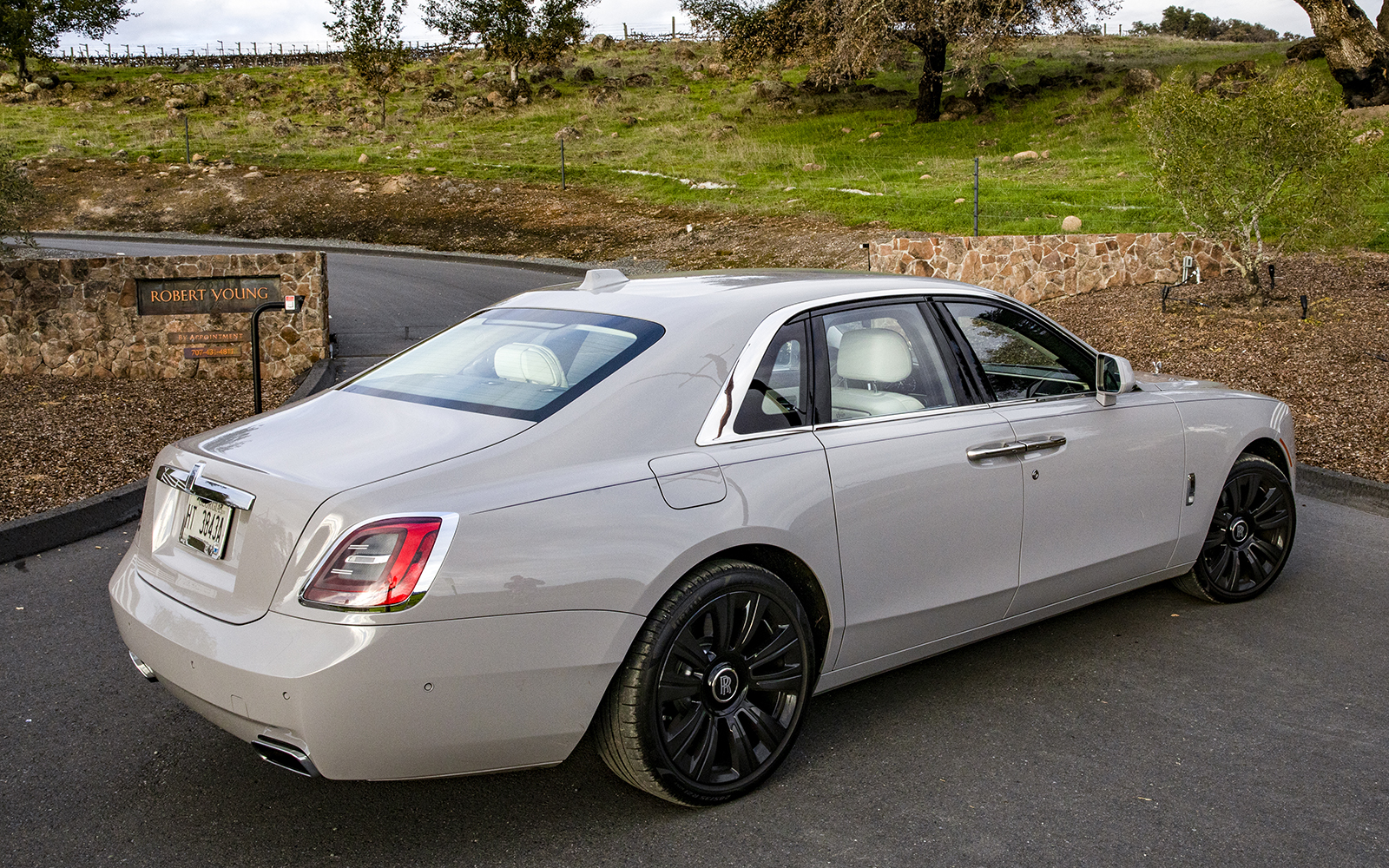 Photo by Bailey Stone Barnard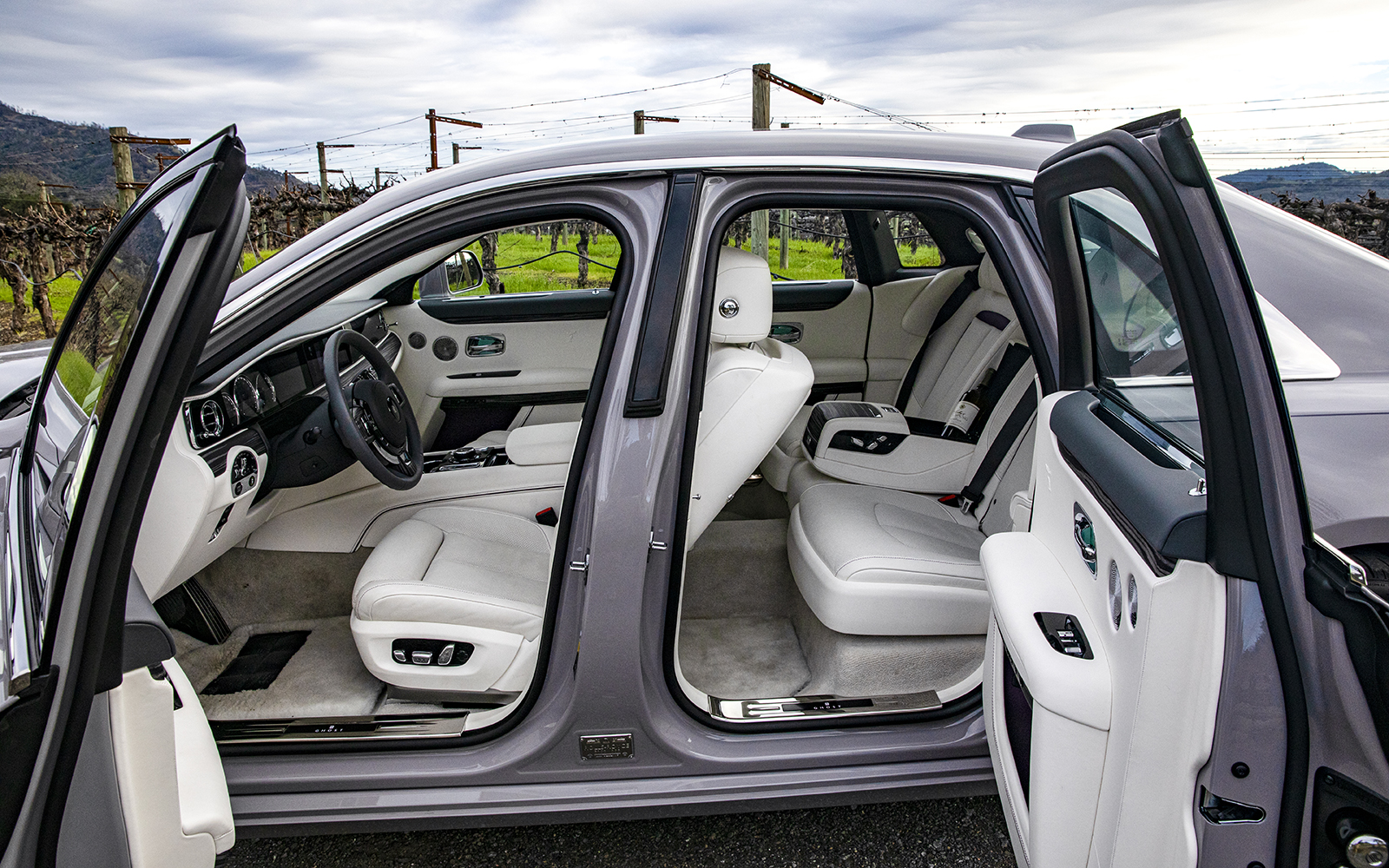 Photo by Bailey Stone Barnard
This comparatively minimalist design approach is continued in the new Ghost, which appears to be almost entirely wrapped in white leather (as was the case with the test car, but is of course available in a myriad of color options). Rolls uses 338 leather panels made from half-skins from 20 cows, all of which have clearly been treated like royalty. The seams on these seats don't look as obvious compared to other Rolls interiors I've seen, making the interior feel cleaner and less ornate. The same applies to the somewhat raw, but clean-looking wooden paneling, which Rolls calls "open-pored". The wood finish in the press trolley is called Obsidian Ayous and is apparently inspired by the lava stone – a nice contrast to the bright white leather.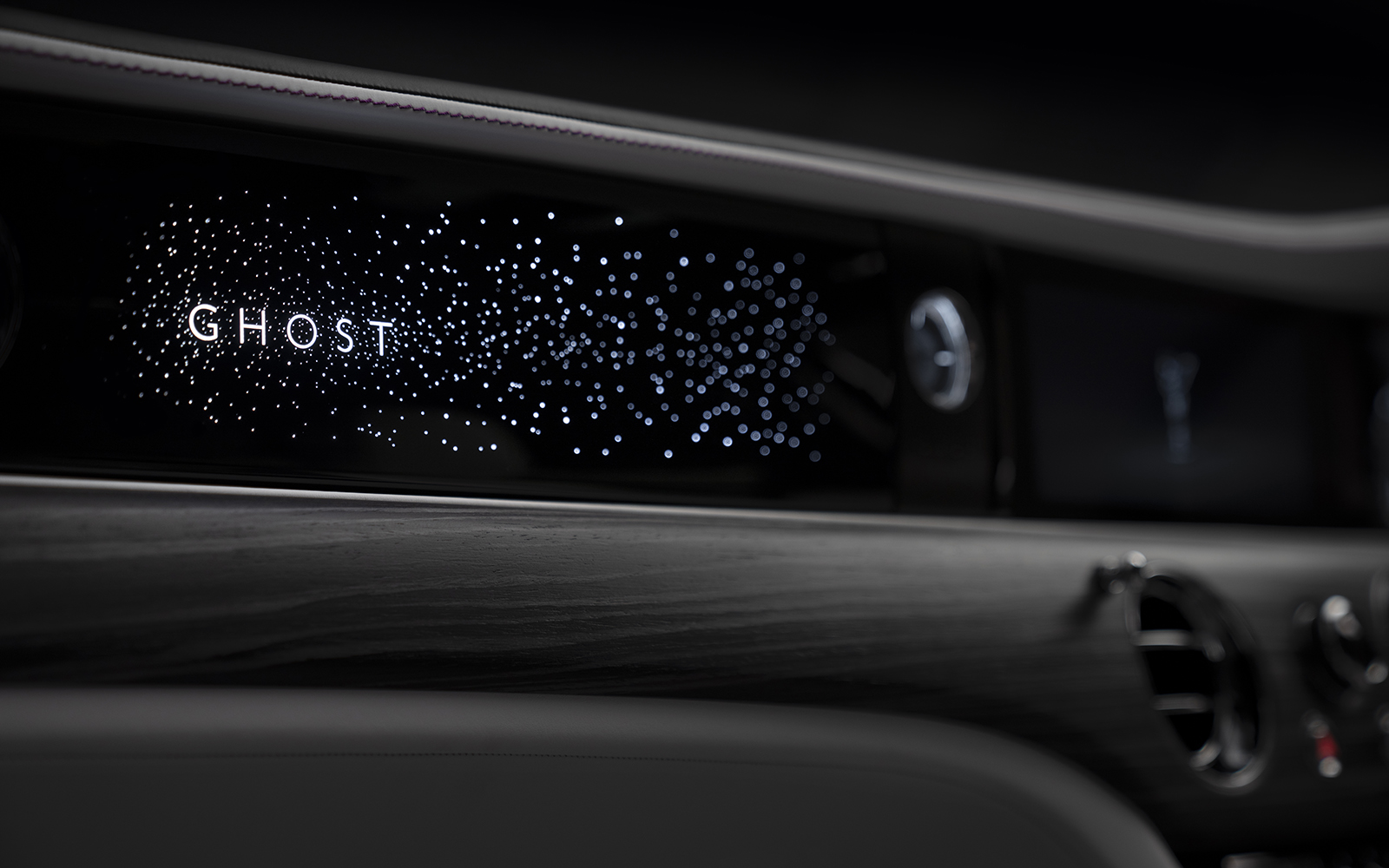 Photo supplied by Rolls-Royce
Rolls makes a pretty big deal out of the Ghost nameplate in the dash (in front of the passenger seat) which shows a glowing Ghost logo surrounded by 850 twinkling stars backlit by 152 LEDs. When the car is switched off, the nameplate magically disappears into a dark painted panel, and when it is switched on the effect is much more subdued than it sounds. Surprisingly, the same goes for the starry sky embedded in the ceiling. The so-called Starlight Headliner is not a new Rolls invention – it was introduced in 2007 – but I am amazed every time I see it. I hadn't noticed the shooting stars before, which occasionally float in delicate streaks across the leather sky, which is perforated with about 1,500 tiny holes and illuminated by fiber optic cables that create a sparkling effect.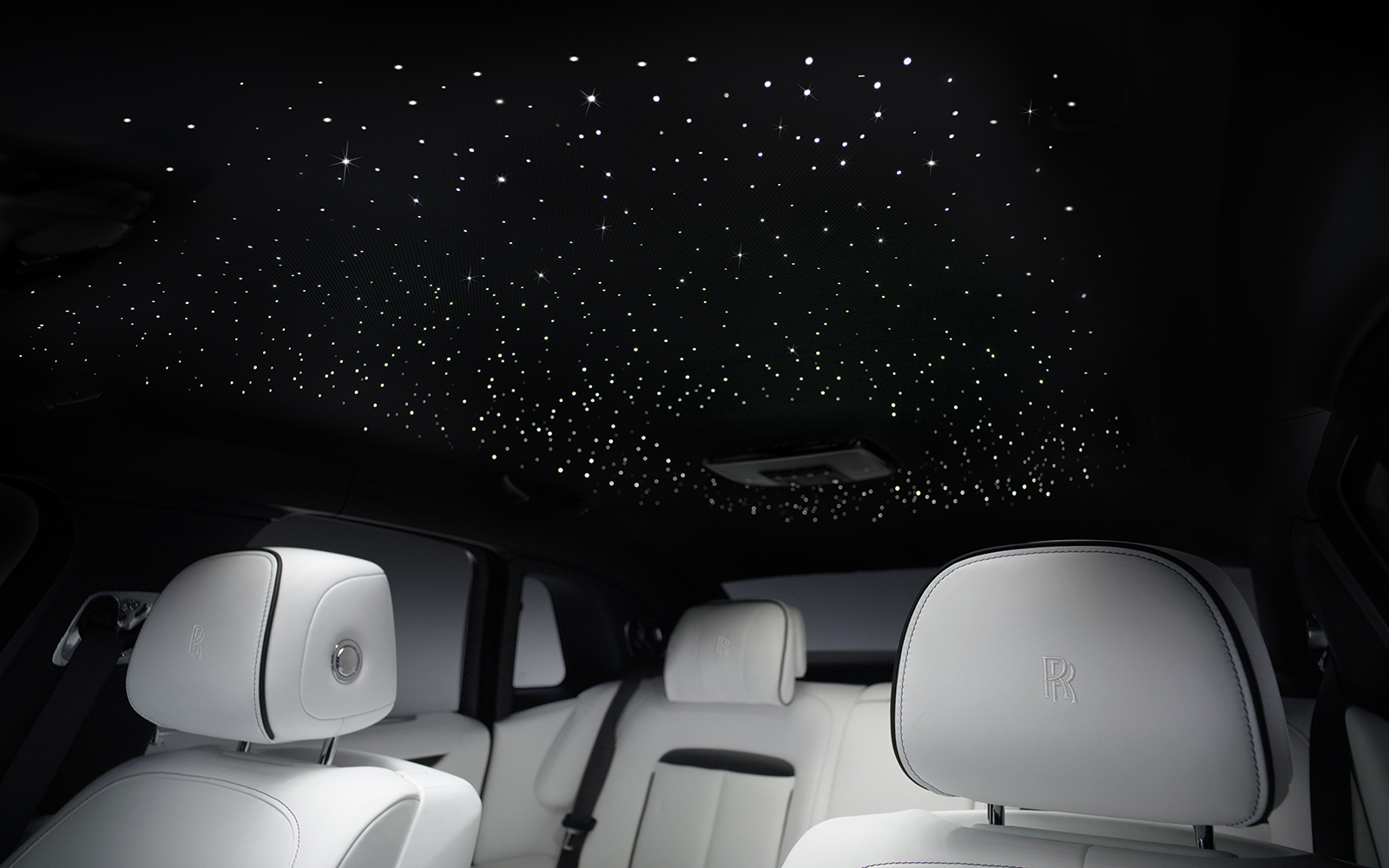 Photo supplied by Rolls-Royce
Now for those carpets: again, not new to Rolls – but my passenger (i.e. my wife) kept talking about them and took off her shoes every time she got in the car. She wanted me to make sure readers knew how soft and fluffy the carpets are: they're very soft and very fluffy.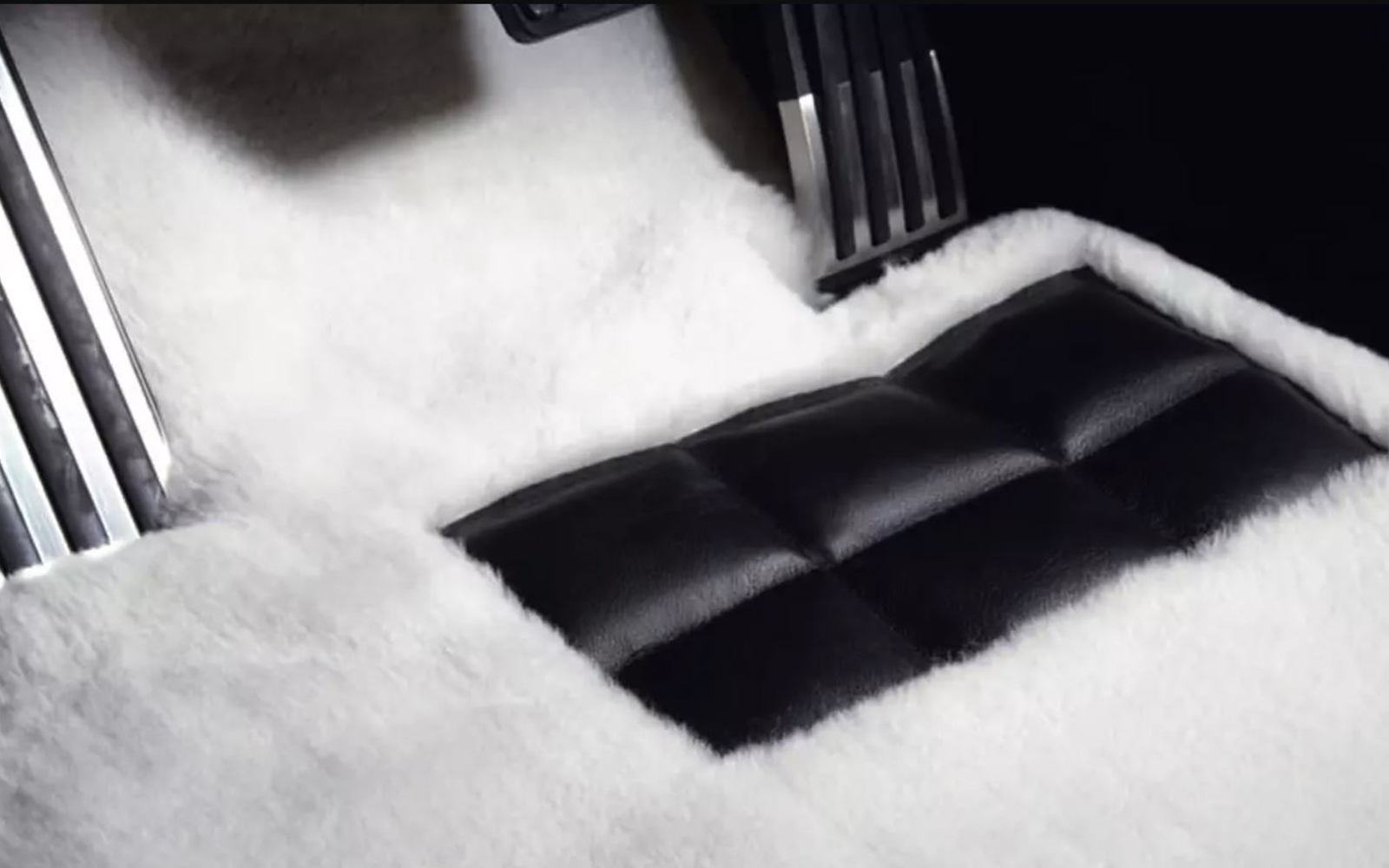 So, design and fluffy carpets out of the way, let's talk about what it's like to drive the new Ghost. In a word, it's great. Every time I ride a Rolls I am impressed with how effortlessly they move. Weighing nearly 7,000 pounds (gross weight) – about the same as a Ford F250 pickup truck – the new Ghost moves smoothly on the road, skids around every curve on rails, regardless of speed, and accelerates like a magnetic force you pull straight down with gentle but powerful force. This drive experience was created with a lot of technology.
Photo by Bailey Stone Barnard
First, the engine is a 6.75-liter twin-turbo V12 that puts out 563 horsepower and 627 lb-ft of torque and gets that big, beautiful aluminum boat to 60 mph in 4.6 seconds, what a big one Car is very fast. But the power feels incredibly smooth and under control, thanks in large part to the all-wheel drive, all-wheel steering, and the very intelligent planar suspension system developed by Rolls. This system was redesigned over the course of five years for the new Ghost and features an upper wishbone damper above the front suspension (apparently a first for a production car) with electronically controlled shock absorbers and self-leveling air struts. Cameras that scan the road and surface ahead and proactively adjust the suspension; and GPS-based transmission that anticipates curves and selects the optimal gear. The result is flawless handling at any speed and a ride that is so smooth that you completely forget about the road.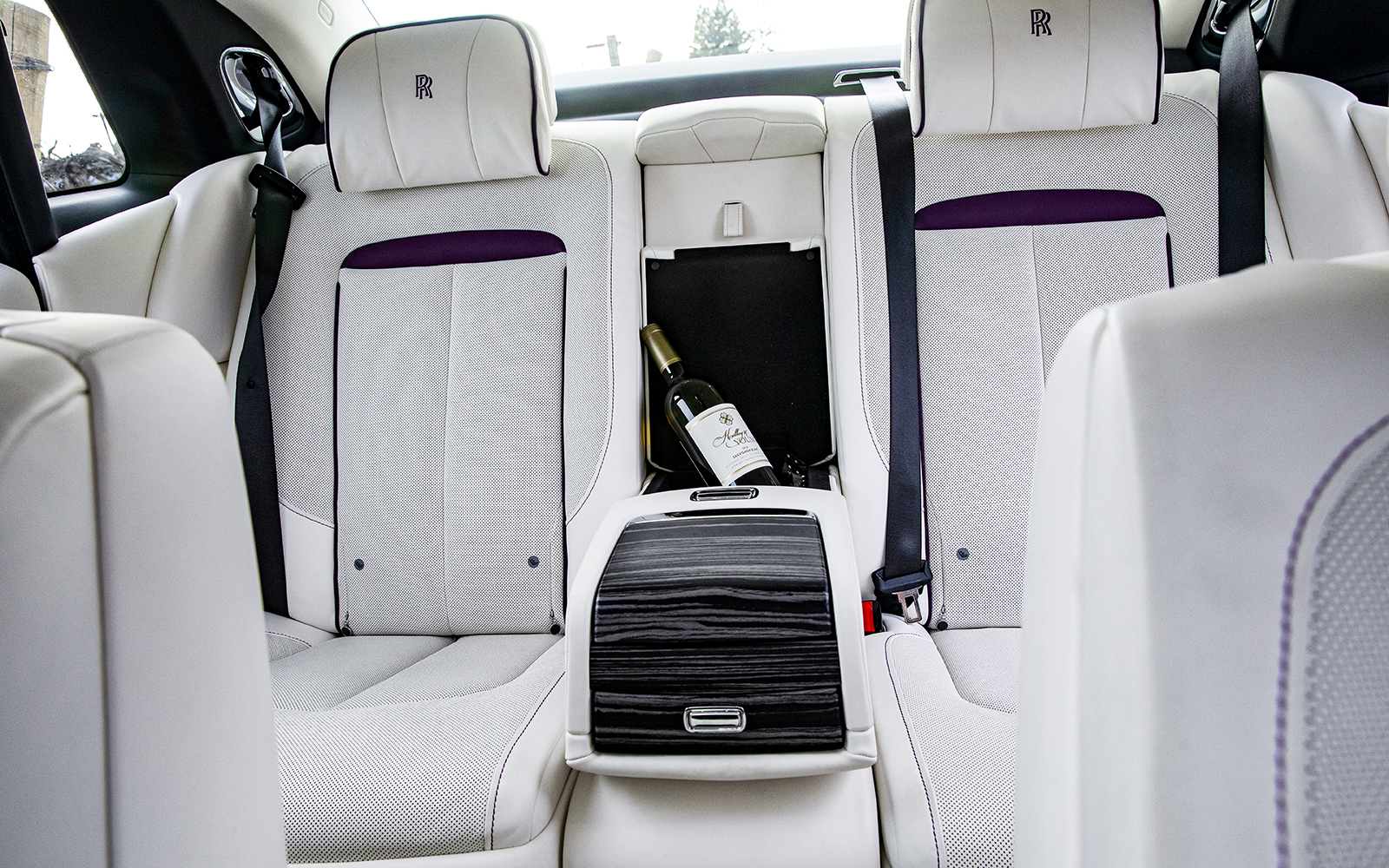 Photo by Bailey Stone Barnard
This sensation is fueled by the ridiculous engineering that was used to create a very quiet cabin. Rolls' acoustic engineers implemented two-layer composite damping in the bulkhead and floor, and 220 pounds of damping material in the doors, roof, windows and even the tires to ensure a quiet cabin. They also made adjustments, such as polishing the air conditioning ducts to reduce wind noise, and widening the diameter of the cardan shaft to increase its rigidity and decrease its acoustic resonance. They also experimented with a dead-quiet interior, but found it eerily quiet (like an anechoic chamber), so Rolls acoustics specialists tuned each component to resonate at the same frequency, creating an imperceptible but soothing undertone in the cabin was generated.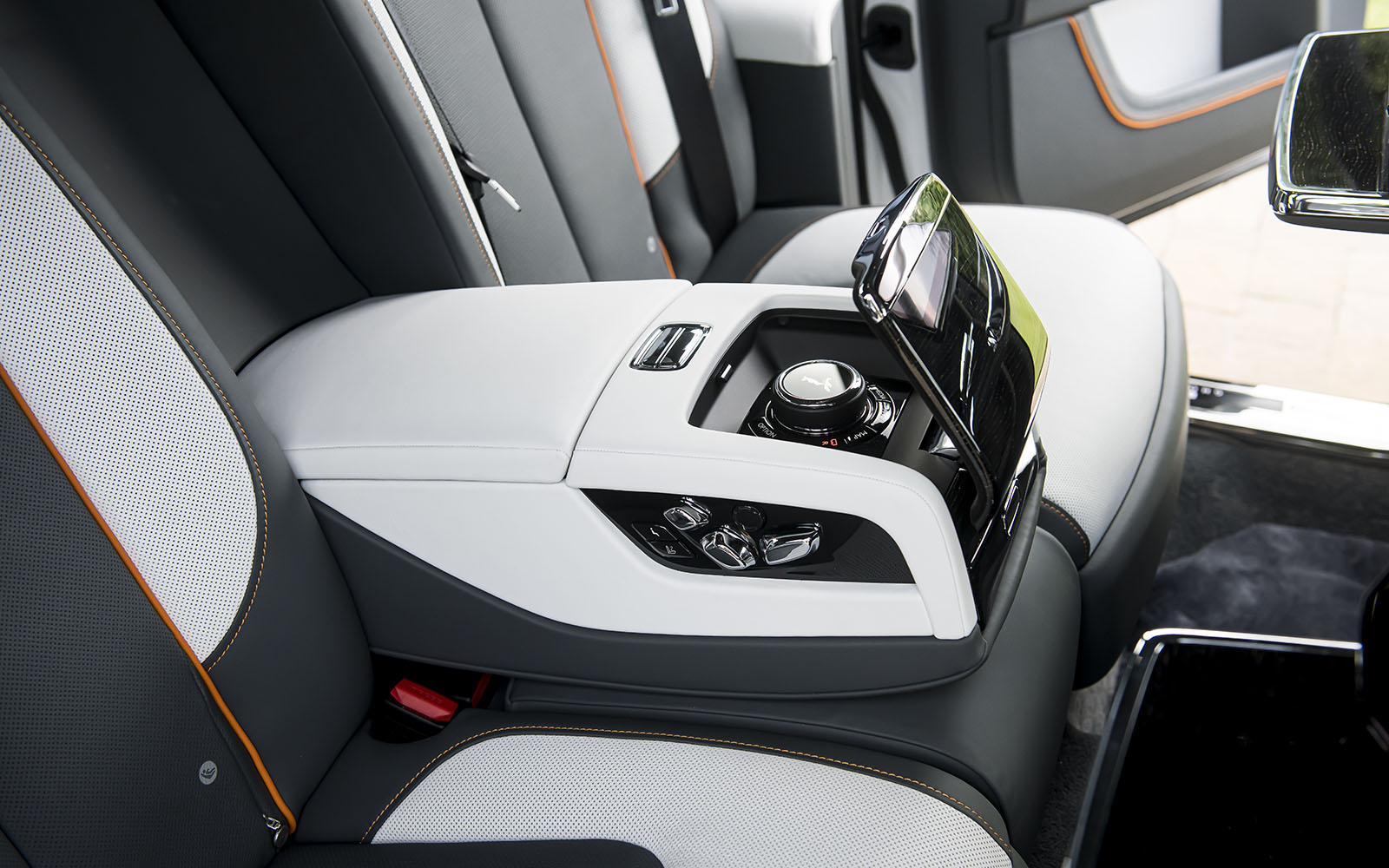 Photo supplied by Rolls-Royce
This creates a neutral soundstage for Roll's proprietary Bespoke Audio, which I've always thought was one of the best (if not the best) in-car stereo systems. I think I'm a bit audiophile – I have not one but two analog stereos at home – and the audio quality in Rolls' cars always blows me away. Whether you're listening to a string quartet, banjo folk, heavy metal or gangster rap, the 1,300 watt 18-channel system delivers clean high frequencies and tight but booming low frequencies.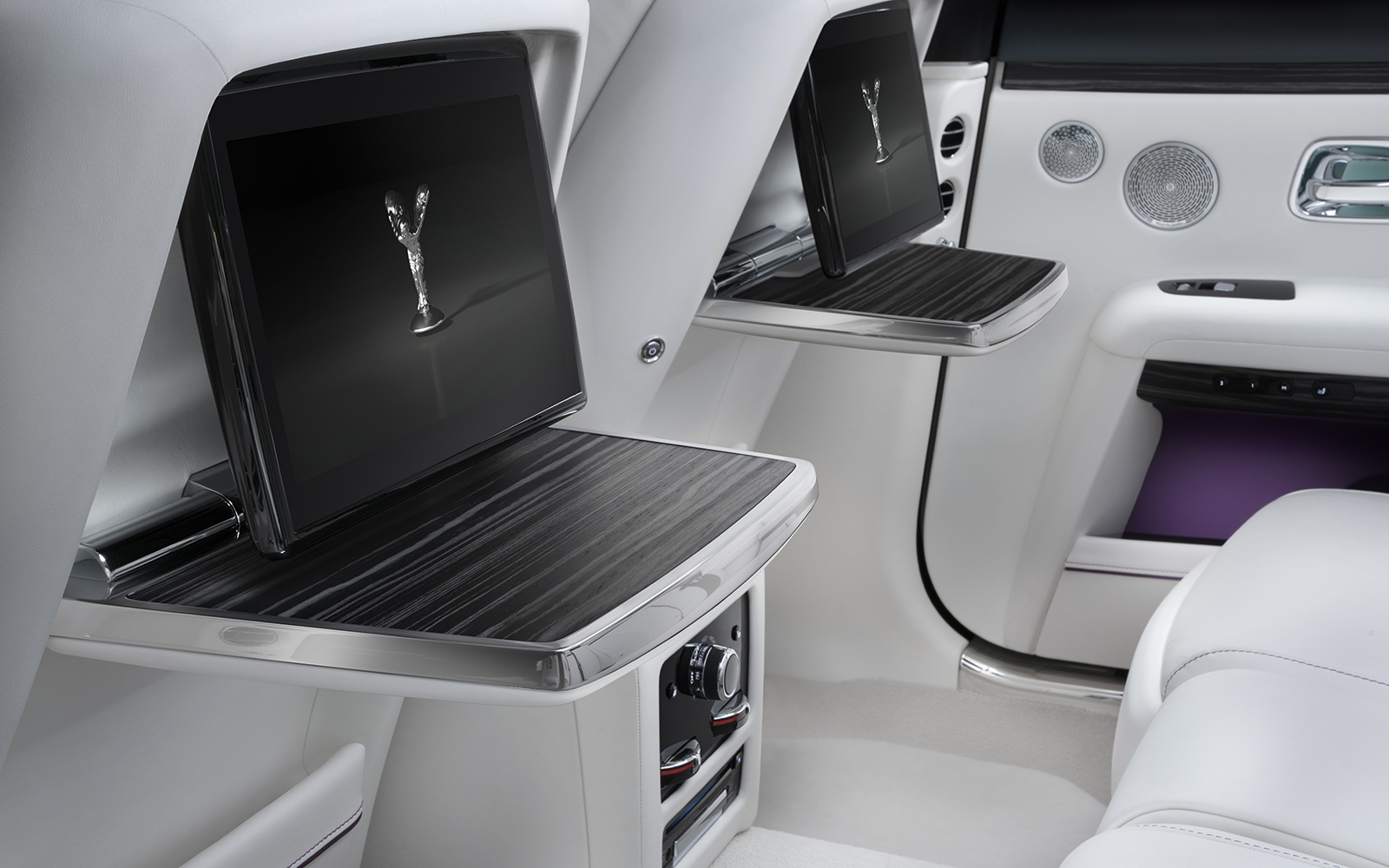 Photo supplied by Rolls-Royce
With this flawless soundtrack, you can achieve that desired roadside presence when you get into the car and pull a small switch in the center console to close the door hands-free. Or if you're being chauffeured (this is a Rolls-Royce, after all) and your driver forgets to close your door for you, you can press a button on the wall in the door frame to close it. From there, you can turn on the rear seat massager, fold down the touchscreen infotainment system built into the front seat backrests, and open a bottle of wine in the rear seat cooler (if open container laws allow). and do business or watch movies to your heart's content – while you rub your shoeless feet on the very soft and very fluffy carpet.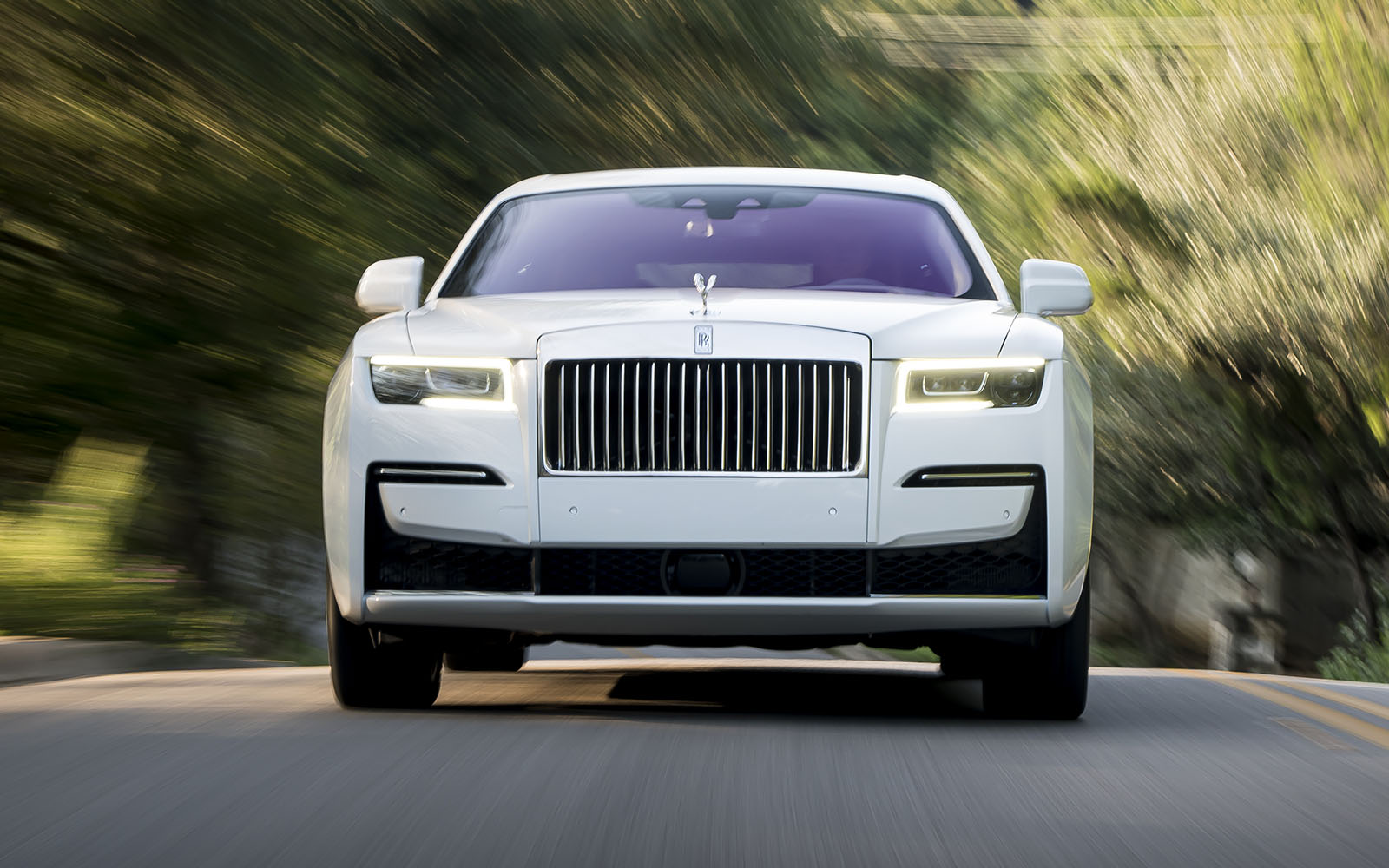 Photo supplied by Rolls-Royce