Barbora Krejcikova reached the fourth round of the French Open last year, but had only won two singles games in the majors main field before that run
The Czech Barbora Krejcikova showed incredible courage when she defeated Maria Sakkari in a classic semi-final of the French Open and reached her first Grand Slam final.
Krejcikova, 25, won with her fifth match point – after saving one herself – 7-5 4-6 9-7 in a dramatic game lasting over three hours.
Krejcikova thought she won earlier in the last game, but a line call was mistakenly overruled by the referee.
In the final she will play against the 31st seeded Russian Anastasia Pavlyuchenkova.
"I've always wanted to play a game like this," said Krejcikova, who is 33rd in singles and also a former number one in doubles.
"When I was younger and played juniors, I always wanted to play such a challenging game where we both had chances and played so well – and only one can win.
"Even if I lost today, I would be very proud of myself because I fought. That is the most important thing to fight, here and in our own lives."
Pavlyuchenkova continued her late heyday at the French Open and also reached her first Grand Slam final by beating the Slovenian Tamara Zidansek 7-5 and 6-3 on the Paris sand.
Pavlyuchenkova, 29, was a dominant junior player but had never reached a Grand Slam semi-final before.
Krejcikova has the nerve to win after a "brutal" referee error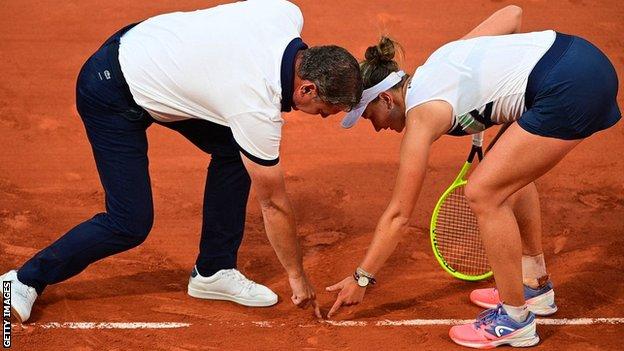 Referee Pierre Bacchi has overridden a linesman at the match point
In a highly unpredictable match of twists and turns, 25-year-old Krejcikova was second best for much of the competition, but somehow made it to what became a Roland Garros classic.
After she could not implement her match point in the ninth game of the deciding round, the 17th seeded Greek Sakkari lost her nerve and did not make it for a place in the final.
This enabled Krejcikova, who had not previously played at her best level, to regain her composure in the crucial moments.
Probably the most amazing thing in a crucial sentence full of key moments, tension and drama was how the Czech was able to shake off the disappointment over the four points previously refused victory.
At 30-40, Sakkari hit a forehand that was called and Krejcikova – who put her arms in the air to celebrate – also thought it was long. Referee Pierre Bacchi, however, disagreed.
The Frenchman tumbled onto the sand, pointing where he believed the ball had hit the line.
Technology isn't used on the sand to challenge calls, and tests so far haven't proven it to be accurate enough on the surface.
However, television broadcasts seemed to indicate the ball was in, leading Britain's former world number one Andy Murray to post on Twitter that Bacchi had made an "absolutely brutal mistake".
"She is why I am here" – Krejcikova pays tribute to Novotna. emotionally
Krejcikova is two-time Grand Slam champion in doubles and will play alongside her Czech Katerina Siniakova in the semi-finals of the women's doubles on Friday.
While their progress in this event is unsurprising, the run to the individual finals on Saturday certainly is.
Krejcikova insisted after her quarterfinal win against American teenager Coco Gauff that she did not want to be branded as a specialist in doubles.
After this memorable run, that is now unlikely.
In her court interview, Krejcikova dedicated her success to her mentor Jana Novotna, the former Wimbledon champion who died of cancer in November 2017.
She also thanked Jan Kodes, the French Open champion in 1970 and 1971, and the 18-time major individual winner Martina Navratilova, both of whom were born in the Czech Republic and were watching from the stands, for their support.
"I appreciate all of my heroes and thank Jana from above," said Krejcikova.
"She took care of me and I really miss her and I want to thank her. I'm here because of her and it's really important to say it out loud."
Pavlyuchenkova's greater experience helps her through
Although Pavlyuchenkova hadn't played at this level before, she had more experience and ancestry than her 23-year-old opponent Zidansek, another semi-final debutant.
Pavlyuchenkova had reached six Grand Slam quarter-finals in her career – including Roland Garros in 2011 – while in her run among the last four she had conquered the scalps of Belarusian third-placed Aryna Sabalenka and the two-time Grand Slam winner Victoria Azarenka.
In comparison, Zidansek was 85th in a major and never got past the second round.
She's also never won a WTA title and wasn't even in the top 50 in the world, which makes her progress all the more surprising.
The Slovenian, who defeated 2019 US Open winner Bianca Andreescu in the first round, has a heavy forehand and the ability to play with variety and knock off a fascinating semi-final that few would have dared confidently predict.
An entertaining first set was nicely balanced 5-5 after both players broke the serve twice. Pavlyuchenkova kicked off when Zidansek produced a nervous double fault at the Russian's first point in the sentence.
After Pavlyuchenkova took a 3-1 lead in the second set, Zidansek looked like he was going to crumble but fought his way back to break the 4-3 serve when Pavlyuchenkova also made a double fault at a crucial moment.
However, the Russian composed herself for the break again in the following game and secured her place in the final on Saturday.
After Zidansek hit a backhand into the tramlines at the first match point, Pavlyunchenkova showed little emotion, seemed shocked at the extent of her performance and drenched in sweat after a tough fight.
"I don't know what to think because I'm so tired but so happy. It's so emotional," she said in her interview in court.