The Milwaukee Bucks have won four straight games and are back within striking distance of the Eastern Conference's best record — a mark they've owned in each of the past two seasons. Meanwhile, the top two teams in the Western Conference, the Utah Jazz and Los Angeles Lakers, are on four-game win streaks of their own.
Let's see where the league's streaking teams — including the red-hot Sacramento Kings — check in ahead of Week 8 in the NBA.
Note: Throughout the regular season, our panel (ESPN's Tim Bontemps, Nick Friedell, Andrew Lopez, Tim MacMahon, Dave McMenamin, Eric Woodyard, Royce Young and Ohm Youngmisuk) is ranking all 30 teams from top to bottom, taking stock of which teams are playing the best basketball now and which teams are looking most like title contenders.
ESPN
Previous: Week 1 | Week 2 | Week 3 | Week 4 | Week 5 | Week 6 | Week 7
1. Los Angeles Lakers
2020-21 record: 18-6
Previous ranking: 2
LeBron James' MVP campaign gained some steam during L.A.'s 3-0 week, as he put up 21 points, 9 assists and 7 rebounds against the Hawks, a 27-10-10 triple-double against Nikola Jokic and the Nuggets and 33 points, 11 assists, 5 rebounds and 4 steals in a double-overtime win against Detroit. Not to mention that he has played in every game this season. "I think it also sets a tone for our whole group," said Lakers coach Frank Vogel. "For him to have the mindset to be out there every night, it really helps our culture." — McMenamin
This week: OKC, OKC, MEM, @DEN
2. Utah Jazz
2020-21 record: 19-5
Previous ranking: 4
The Jazz have won 15 of 16, getting an impressive road win in Indiana on Sunday despite NBA plus-minus leader Mike Conley sitting out because of tightness in his right hamstring. That's a concern considering that hamstring issues sidelined Conley for 19 games last season. The silver lining is that Donovan Mitchell has thrived in the past when sliding over to point guard — and did so again against the Pacers on Sunday, when he had 27 points, 11 assists and finished one rebound shy of his first career triple-double. — MacMahon
This week: BOS, MIL, MIA
3. LA Clippers
2020-21 record: 17-8
Previous ranking: 1
1 Related
Even after a 124-120 loss at Brooklyn on Tuesday, the Clippers were in a groove. But then Paul George suffered a toe injury that kept him out the past two games, and Kawhi Leonard & Co. quickly have discovered how much tougher life is without him. They've lost two straight close home games to the Celtics and Kings, with Leonard working awfully hard to get the double-doubles he got. The Clippers need George and Patrick Beverley, who has missed eight straight games, back soon. — Youngmisuk
This week: @MIN, @CHI, CLE
4. Philadelphia 76ers
2020-21 record: 17-7
Previous ranking: 3
Despite a disappointing home loss Thursday to undermanned Portland, Philadelphia remains in first place in the Eastern Conference thanks to wins over the defending champion Lakers and the Nets, and Joel Embiid remains one of the front-runners for this year's MVP award with a run of impressive play. Embiid, who is averaging a career-best 29.3 points per game so far this season, has eclipsed 30 points in eight of his last 10 games. — Bontemps
This week: @SAC, @POR, @PHX
5. Milwaukee Bucks
2020-21 record: 15-8
Previous ranking: 7
Giannis Antetokounmpo and the Bucks claim they haven't yet hit their stride, but it was hard to tell during a 4-0 week that included a 20-point win over the Pacers on Wednesday. Antetokounmpo posted 24 points, 11 rebounds and five assists in Saturday's 124-99 win over Cleveland, which was his 11th 20-10-5 game this season, tying Denver's Nikola Jokic for the most in the NBA. — Woodyard
This week: @DEN, @PHX, @UTAH, @OKC
6. Brooklyn Nets
2020-21 record: 14-11
Previous ranking: 6
Well, that was weird. The Kevin Durant saga will last at least another week, with the superstar needing to quarantine a second time this season. Technically, the Nets are 4-2 when their star trio plays, but that includes Thursday's game, in which Durant didn't start, then had to leave early. And as Steve Nash said, games can start to add up when you're positioning for the postseason or trying to earn home court. — Young
This week: @DET, IND, @GS
7. Phoenix Suns
2020-21 record: 13-9
Previous ranking: 10
Phoenix has won five of six, but that didn't stop coach Monty Williams from making a starting lineup change. After Cameron Johnson struggled against Zion Williamson in a loss to the Pelicans, Williams started the 7-foot, 240-pound Frank Kaminsky III for the last two games while sending 6-foot-8, 210-pound Johnson back to the bench. Williams said he made the move because teams are playing big and he didn't want to put Johnson in a "tough spot" having to guard bigger forwards. Johnson has averaged 15.5 points off the bench while Kaminsky has averaged 12.0 points and 7.0 rebounds in his two starts. — Lopez
This week: CLE, MIL, PHI, ORL
8. Denver Nuggets
2020-21 record: 12-10
Previous ranking: 5
Nikola Jokic scored 47 points and dropped a career-high 50 last week. But defense and health have been an issue for the Nuggets, who lost two straight games. Gary Harris could be out for an extended period and Jamal Murray did not play in Denver's loss to Sacramento. The Nuggets can't keep wasting MVP performances from Jokic, who squares off against Giannis Antetokounmpo and the Bucks on Monday night. — Youngmisuk
This week: MIL, CLE, OKC, LAL

9. Boston Celtics
2020-21 record: 12-10
Previous ranking: 8
Boston, hit hard by injuries, has now lost four out of six after falling to the Suns on Sunday in Phoenix. Things won't get any easier, with a trip to Salt Lake City for a game against the league-leading Utah Jazz to end this five-game West swing. Boston, however, will be more focused on getting Marcus Smart (calf) and Jaylen Brown (knee) healthy, as well as getting Kemba Walker — who shot 4-for-20 against the Suns, including 0-for-9 inside the 3-point arc — back into a groove. Walker is now 50-for-140 (35.7 percent) from the field in nine games this season, including 21-for-68 (30.8 percent) from 3-point range. — Bontemps
This week: @UTAH, TOR, DET, @WAS
10. San Antonio Spurs
2020-21 record: 13-10
Previous ranking: 13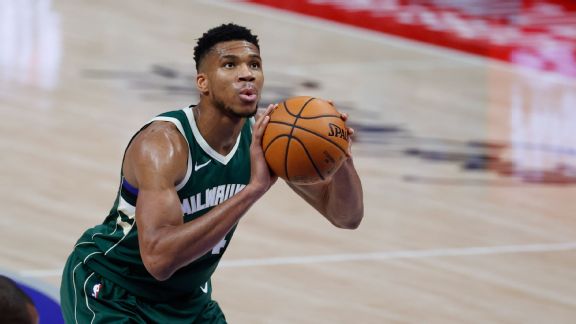 The NBA is back! Catch all the 2020-21 season action on ESPN, ABC and the ESPN App.
Wednesday, Feb. 10
• Hawks at Mavericks, 7:30 p.m. on ESPN
• Bucks at Suns, 10 p.m. on ESPN
All times Eastern
DeMar DeRozan is averaging a career high in assists (6.6), true shooting percentage (60.7%) and free throw percentage (88.4%) and nearly has as many 3-pointers this season (14) as he had in his first two years combined in San Antonio (16). His team has a minus-3.8 net rating with him on the court, but when DeRozan is on the floor with guard Derrick White, things are changing. The duo has played 76 minutes together this season and are sporting a plus-12.0 net rating. — Lopez
This week: GS, GS, @ATL, @CHA

11. Indiana Pacers
2020-21 record: 12-12
Previous ranking: 9
The Pacers suffered a couple of tough losses to Milwaukee and New Orleans, but center Myles Turner said they'll "bounce back." Turner continues to lead the league in blocked shots at nearly four a game. Meanwhile, T.J. McConnell made franchise history in Friday's loss with 9 points and 15 assists in 28 minutes off the bench, the most assists ever by a Pacers bench player. His 41 points assisted on and 11 3s assisted on are each the most by a player coming off the bench in the past 25 seasons, according to the Elias Sports Bureau. — Woodyard
This week: @BKN, @DET, @ATL
12. Portland Trail Blazers
2020-21 record: 12-10
Previous ranking: 11
As the Blazers try to stay afloat in the West as they deal with injuries, Damian Lillard's workload is something to monitor. The Blazers are attentive to his minutes (they're hovering around his career average) but in a condensed season coming off a short offseason, Lillard is carrying a heavy burden. — Young
This week: ORL, PHI, CLE, @DAL
13. Golden State Warriors
2020-21 record: 12-11
Previous ranking: 14
Even Stephen Curry's greatness hasn't been enough to carry the Warriors at times this season. That was evident again on Saturday night after Curry dropped 57 points in a loss to the Mavs. Aside from more consistency from up and down the roster, the Warriors need to get healthy. Big men James Wiseman (wrist), Kevon Looney (ankle) and Eric Paschall (knee) have missed time. The bright spot for the Warriors is that Kelly Oubre Jr. dropped a career-high 40 points Thursday against the Mavs, and they're hopeful he may finally be turning a corner. Kevin Durant's first game at Chase Center on Saturday night is the highlight of this week's slate. — Friedell
This week: @SA, @SA, ORL, BKN
14. Houston Rockets
2020-21 record: 11-11
Previous ranking: 16
The Rockets will be relying heavily on DeMarcus Cousins while starting center Christian Wood recovers from spraining his right ankle for the second time in three weeks. Houston is 3-2 in games started by Cousins, the former All-Star who is making a comeback from a series of serious injuries. He has averaged 14.6 points, 13.6 rebounds and 1.8 blocks in his starts. — MacMahon
This week: @CHA, @NO, MIA, @NYK
15. Atlanta Hawks
2020-21 record: 11-12
Previous ranking: 15
It has been a career year so far for Hawks center Clint Capela in the rebounding department. He's averaging career highs in rebounds per game (14.6), defensive rebounds per game (9.8) and offensive rebounds per game (4.8). And he's doing it all while playing only 30.9 minutes per game this season. He's pulling down 17.7 rebounds per 36 minutes, which would be the highest (among qualified players) since Dennis Rodman averaged 18.9 rebounds per 36 minutes in 1994-95 with the San Antonio Spurs. — Lopez
This week: @DAL, SA, IND
16. Sacramento Kings
2020-21 record: 12-11
Previous ranking: 25
What a week for the Kings, beating three upper-echelon teams in Boston, Denver and the LA Clippers to run their record to 7-1 in their past eight outings. De'Aaron Fox was superb against the Clippers, dropping 36 points with seven assists and bringing his scoring average to 31 points over his past four games. — McMenamin
This week: PHI, ORL, MEM
17. Memphis Grizzlies
2020-21 record: 9-9
Previous ranking: 12
The 2020-21 NBA season may have already started, but you can create or join an ESPN Fantasy Basketball league at any time and start your season from when you draft your team.
Since New Year's Day, the Grizzlies have had a three-game losing streak, a seven-game winning streak and another three-game losing streak. Memphis has been outscored by 81 points in Ja Morant's 88 minutes through the current skid, during which the star sophomore point guard has shot only 33.3% from the floor. — MacMahon
This week: TOR, CHA, @LAL, @SAC
18. Toronto Raptors
2020-21 record: 10-13
Previous ranking: 21
Toronto remains a team in flux. Since their 2-8 start, the Raptors have gone 8-5, posting the East's third-best record — and the league's sixth-best offense — during that stretch. But that still leaves Toronto under .500 at this point in the season and in ninth place in the Eastern Conference. Toronto is now dealing with starting forward OG Anunoby's absence with a calf injury. — Bontemps
This week: @MEM, @WAS, @BOS, MIN
19. New York Knicks
2020-21 record: 11-14
Previous ranking: 19
The Knicks find themselves in a playoff spot a third of the way through the season — a better result than anyone reasonably could've expected. Now, we'll see if the team gets a further spark by the reunion of coach Tom Thibodeau with former league MVP Derrick Rose, whom the Knicks reacquired after Sunday's loss to Miami. The Knicks are (ironically) tied with Detroit for 24th in the NBA in offensive efficiency, to go along with their sixth-ranked defense. Detroit, however, was 6.5 points per 100 possessions worse offensively with Rose on the court than off it this season. — Bontemps
This week: MIA, @MIA, @WAS, HOU
20. New Orleans Pelicans
2020-21 record: 10-12
Previous ranking: 23
Since a disappointing loss to Minnesota on Jan. 23, the Pelicans have responded by winning five of their past seven games, including three straight over Phoenix, Indiana and Memphis. One of the keys has been the strength of the Pelicans' starting lineup: Lonzo Ball, Eric Bledsoe, Brandon Ingram, Zion Williamson and Steven Adams. In 96 minutes over the past seven contests (Adams missed one with a calf injury), the Pels' starting five has a net rating of plus-37.4 and an offensive rating of 137.4. — Lopez
This week: HOU, @CHI, @DAL, @DET
21. Dallas Mavericks
2020-21 record: 10-14
Previous ranking: 20
Luka Doncic put the finishing touches on his 42-point, 11-assist masterpiece on Saturday by dishing to Maxi Kleber for the dagger 3. It was a moment that illustrated the importance of Kleber, who recently returned from an 11-game absence due to COVID-19. Kleber is arguably Dallas' best defender and the most accurate 3-point shooter (45.8%) on the league's least accurate 3-point shooting team. — MacMahon
This week: MIN, ATL, NO, POR
22. Charlotte Hornets
2020-21 record: 11-13
Previous ranking: 18
There were some strong highlights for Charlotte during a 2-2 week. Malik Monk carved up the Heat with 36 points in an overtime win on Monday. LaMelo Ball had a massive game with a career-high 34 points, eight assists and four rebounds in Friday's loss to the Jazz. Terry Rozier and Gordon Hayward combined for 51 points in Sunday's win over the Wizards. Ball's improvement will continue to be one of the most intriguing storylines in the league — especially if he keeps putting up numbers like he did this week. — Friedell
This week: HOU, @MEM, MIN, SA
23. Cleveland Cavaliers
2020-21 record: 10-14
Previous ranking: 17
In two games against the Bucks last week, the Cavs led by three at halftime in one and trailed by five at halftime in the other. They ended up losing both games by a combined 43 points. Such is life for a young, promising team learning to put together a full 48-minute game against the league's elite. — McMenamin
This week: @PHX, @DEN, @POR, @LAC
24. Miami Heat
2020-21 record: 9-14
Previous ranking: 22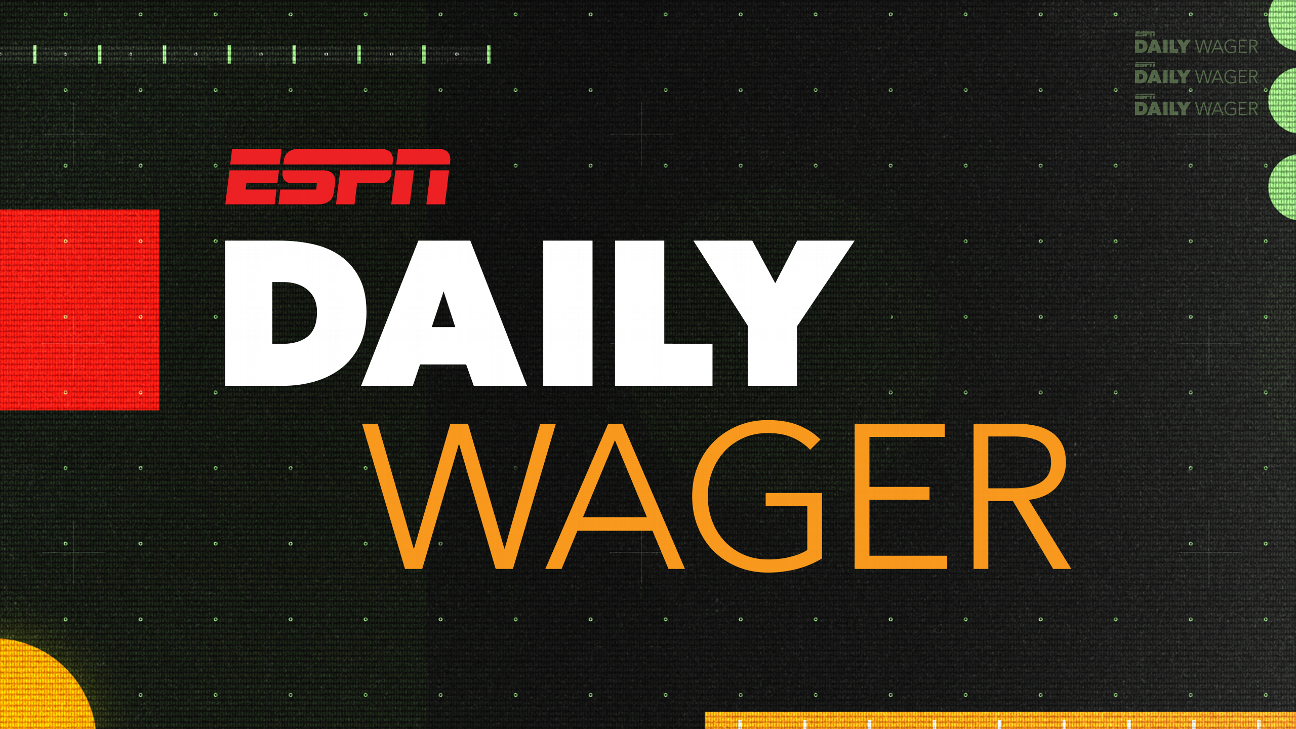 A daily sports betting news and information show (6-7 p.m. ET, ESPN2) that aims to better serve the millions of sports fans who participate in sports wagering and help educate general sports fans with in-depth analysis. Watch »
Even with Jimmy Butler finally back, the scary part for the Heat is that they start a difficult seven-game Western swing on Thursday in Houston. The Heat need to find their defensive edge quickly to pull themselves out of the hole that injuries, inconsistency and COVID-19 protocols created. — Friedell
This week: NYK, @HOU, @UTAH
25. Oklahoma City Thunder
2020-21 record: 10-12
Previous ranking: 24
The Thunder have managed to hover around .500 despite the profile of a team that should be much worse (28th in net rating). The biggest reason is they execute well in close games, going 5-4 in clutch-time contests with a ridiculous offensive rating of 127.1 and a net rating of plus-27.1. Shai Gilgeous-Alexander apparently learned a thing or two from Chris Paul on how to close, ranking in the top 15 of most clutch-time categories this season. — Young
This week: @LAL, @LAL, @DEN, MIL
26. Chicago Bulls
2020-21 record: 9-13
Previous ranking: 26
Although the Bulls have been up and down, Zach LaVine continues to show why he should be in consideration as an All-Star this season. On Saturday, he went off for 39 points during a win at Orlando while becoming the sixth player in Bulls history to record at least 40 career 30-point games. The 26-point victory was Chicago's largest this season. — Woodyard
This week: WAS, NO, LAC
27. Orlando Magic
2020-21 record: 9-15
Previous ranking: 28
The good news for the Magic is that they actually got a win on Friday, as Nikola Vucevic scored a career-high 43 points in a victory over the Bulls. The bad news is that they followed that up the next night with a blowout loss to those same Bulls, against whom Vucevic somehow registered a minus-41 plus/minus. Orlando continues to lack any rhythm and is headed out to start a four-game Western swing that begins with a Tuesday night clash with the Trail Blazers. — Friedell
This week: @POR, @GS, @SAC, @PHX
28. Washington Wizards
2020-21 record: 5-15
Previous ranking: 27
The Wizards couldn't quite keep the momentum from their exhilarating win over Brooklyn on Jan. 31. While they squeaked out a win at Miami, they also were blown out by the same Heat team and then clobbered by the Hornets two days later. The Wizards can't stop anyone, and Bradley Beal actually looked human for once, failing to score in double digits for the first time all season with a 1-for-14 shooting night against Miami. At least they're healthier than a week ago. — Youngmisuk
This week: @CHI, TOR, NYK, BOS
29. Minnesota Timberwolves
2020-21 record: 6-17
Previous ranking: 29
Karl-Anthony Towns rejoined the Wolves on their recent road trip, with his return from COVID-19 seemingly imminent. Towns has only played in four games this season, with the Wolves going 2-2. Without him? They're 4-15. It's been a challenging season already for Minnesota, but Towns' return could help restore some positive momentum. — Young
This week: @DAL, LAC, @CHA, @TOR

30. Detroit Pistons
2020-21 record: 5-18
Previous ranking: 30
Monday set the tone for the week, with Detroit's game at Denver being postponed minutes before its scheduled tipoff due to contact tracing within the Pistons. Detroit went 0-4 on their Western swing with losses to Golden State, Utah, Phoenix and the Lakers (in double overtime). Jerami Grant scored 32 points against the reigning champs, which represented his fourth 30-point game this season; he entered this season with zero for his career. On Sunday, the Pistons agreed to send Derrick Rose to the Knicks for Dennis Smith Jr. and a 2021 second-round pick. — Woodyard
This week: BKN, IND, @BOS, NO