(Credit: The A Group and Mirage CG)
With over 35 years of experience in yachting, interior, design and construction, The A group is synonymous with superyacht design and first class craftsmanship. The revolutionary company's latest superyacht concept was called Comète at 272 feet. The project is a collaboration between the designer of the A Group, Thibaud Le Merdy, and the yacht director Matt Pegrum, who realized Thibaud's vision (he first drew his dream machine Comète in 2017).
With dynamic and elegant lines and a spacious 1,800GT interior with living area (with seven cabins) Comète becomes a real wonder on the water. The yacht's magnum opus offers space for 12 guests and 22 crew members as well as a very modern design and unique elements. It's the front, fun outdoor area topped by a striking, glass-bottomed pool.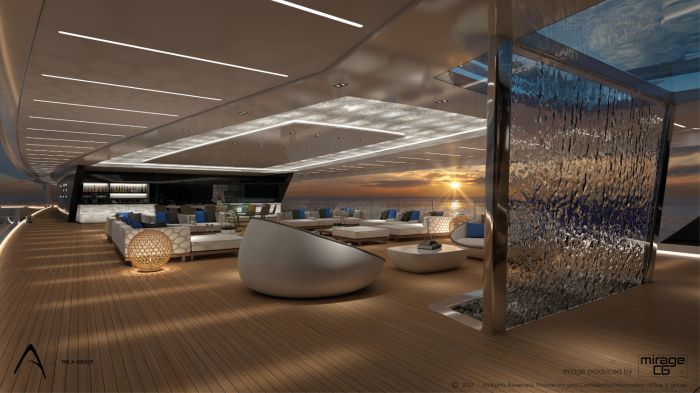 (Credit: The A Group and Mirage CG)
The rooms have been designed to be as close to the sea as possible and so that the yachers can immerse themselves in the surroundings in a safe, protected and luxurious manner. The exterior shows a refined overall shape that represents a beautiful silhouette without compromise. "We wanted to challenge the status quo of traditional layout," said Matt. The sleek design of the hull is made from lightweight materials to reduce drive power requirements and provide an effective way to control the yacht's ecological footprint.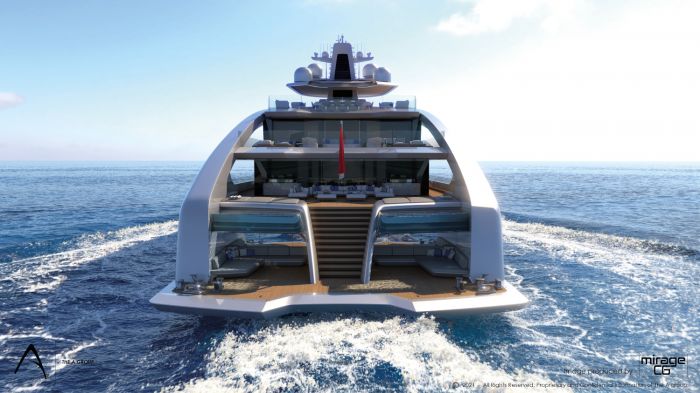 (Credit: The A Group and Mirage CG)
With a jet of just over 49 feet and a draft of just over 11 feet, the cruising speed is 12 knots and the top speed is 16 knots. Its design reflects the surroundings and the perfect balance between spaces that are open and refined to the surrounding nature.
"Comete is for an owner who is ready to breathe fresh air and be close to the sea at every moment. It's what makes this yacht unique. All you have to do is look at the outer main deck saloon to understand that everything is more beautiful when you are closer to nature, "said Thibaud.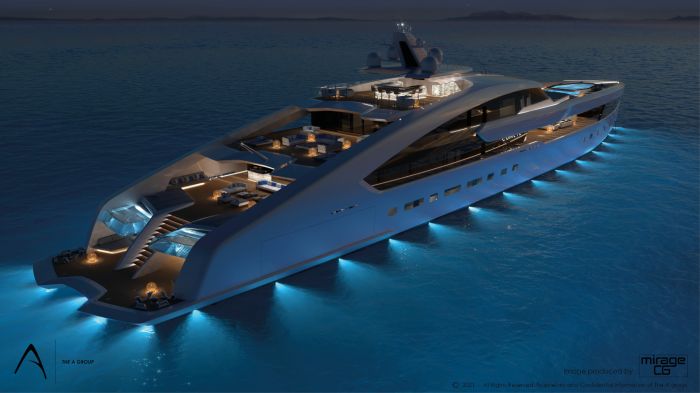 (Credit: The A Group and Mirage CG)
Other features of the yacht are:
• Oversized garage: 2x10m tender, 8 jet skis, 7m crew tender
• Theater stairs surrounded by two whirlpools
• Forward exterior salon 220 m2
• Forward facing spa overlooking the bow
• Spacious 120m2 private terrace
• Upper deck floor glass swimming pool 8x4m
• Open sundeck with outdoor cooking area for secluded guests
Matt and Thibaud also pride themselves on research and development into hydrogen fuel cells like this one. "They have the potential to radically change environmental performance by enabling zero-emission power generation," says Matt. With this technology, the yacht not only has an all-round efficient energy generation and storage system, but also batteries for top shave and waste heat recovery systems (for heating swimming pools and domestic hot water).
YOU ALSO LIKE:
PROJECT CENTURY X – 2024 360 '11 "CUSTOM
MEGA LUXURY YACHT SALE