Columbia Hillen
A more idyllic rural portrait is harder to paint than the ruins of a 12th-century Celtic abbey standing in a lush, undulating meadow where hairy highland calves frolic and play and seagulls sweep low over the sea.
However, this is not a painting, this is an enjoyable reality. On the Scottish island of Iona on a sunny autumn afternoon. A scene that I loved to sit comfortably on a plush armchair and look out from the local owner's lounge St. Columba Hotel.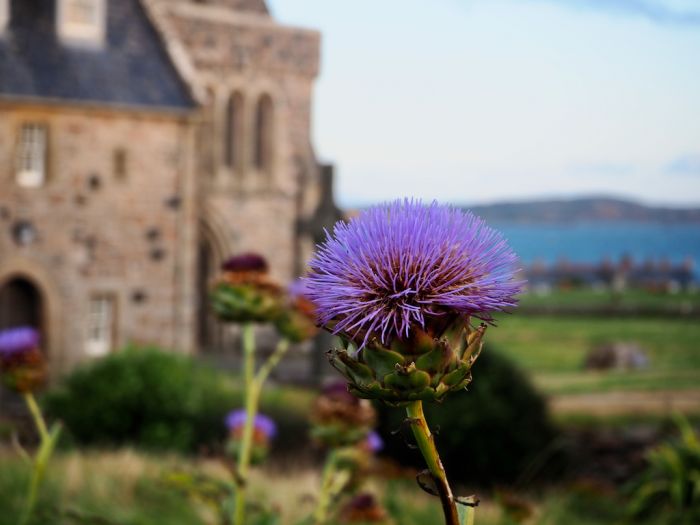 Columbia Hillen
This charming hotel is named after a 6th century Irish monk who formed a religious community here and became a cult figure whose name still draws tens of thousands of pilgrims to the island. It combines a central location with an impressive heritage.
Originally built as Free Church Manse in 1846 and owned by the Duke of Argyll, it soon moved to other ownership and has been converted into a hotel during various renovations over the past 100 years.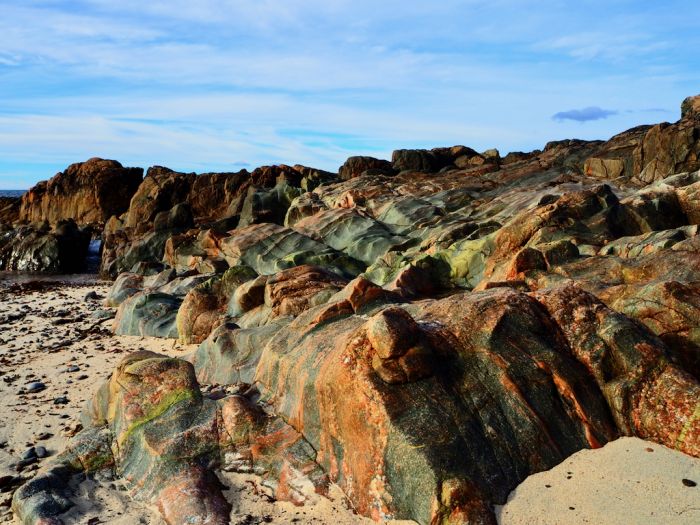 Columbia Hillen
Currently owned by a local group, the hotel provides a convenient location from which to explore the many attractions of this tranquil West Scottish island, all within walking distance. These include fine-grained sandy beaches with a rocky backdrop on the north beach, a golf course overlooking the sea, the ruins of a 13th-century nunnery, the famous abbey itself and an old cemetery known as Reilig Òdhrain.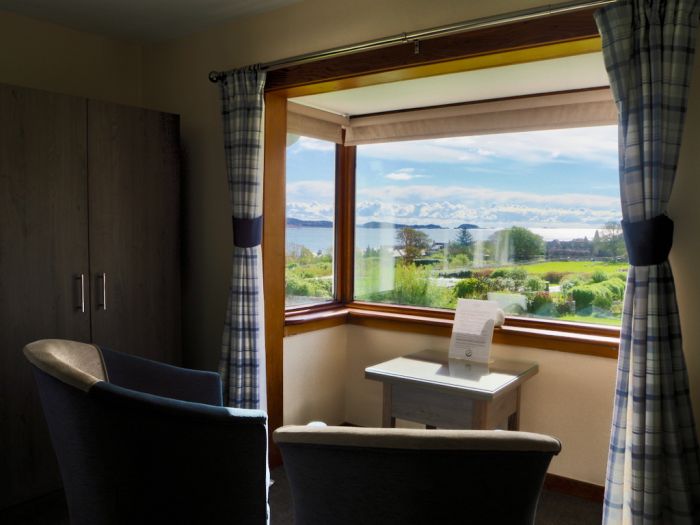 Columbia Hillen
To make buying souvenirs easier, there are two handicraft shops 'Oran' and 'Aosdana' right in front of the hotel's wooden front gate. Another, Martyr's Bay Shop, is on the main pier, a 15-minute walk away.
In addition to the picturesque view from the spacious lounge, the hotel also offers what is known as a "quiet garden", a large lawn with hedges and flowers and large wooden picnic tables where guests can enjoy food and drinks outdoors.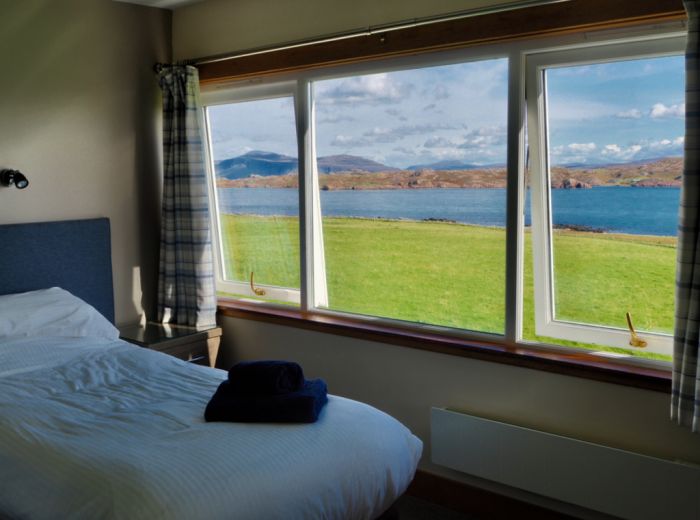 Columbia Hillen
Our room number 5 was bathed in daylight coming in from two large windows. An uplifting view was granted over a green meadow to the sea and the mainland beyond, with a side view of the 12th century Benedictine monastery, which is believed to be the original location of the 6th century Columba monastery.
The second window in a niche looked out over the graceful garden of the hotel and the old stone ruins of the "World of Women" monastery from the 12th century, behind which there was a basket of islands in the gleaming Atlantic. Here, our drinks before and after dinner in front of us on a small table with adjacent armchairs, we enjoyed spending relaxed hours in philosophical discussions. Additional furniture included a desk, two single beds, and murals, mostly seascapes. Our bathroom consisted of a combo tub and shower with toiletries from The Scottish Fine Soaps Company.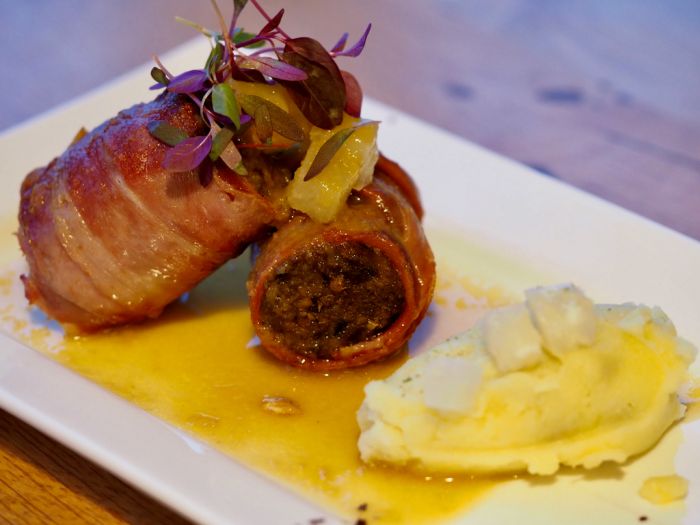 Columbia Hillen
The food in the hotel is refreshingly diverse. Starters range from gazpacho made with ingredients from the hotel's own vegetable and herb garden to an innovative, earthy twist on the most traditional Scottish dishes. Haggis – offal is wrapped in ham, accompanied by truffle potatoes, kohlrabi and thyme confit, and a whiskey and apple sauce.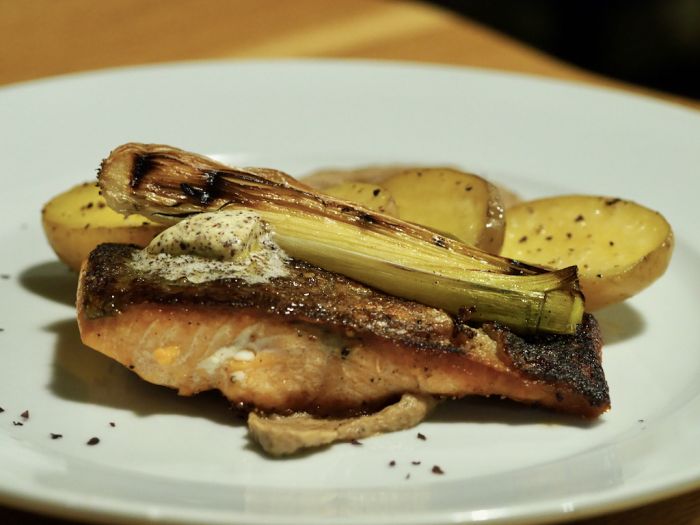 Columbia Hillen
The main course consisted of a balanced mix of meat and fish, ranging from grilled mackerel with roasted pulp and cucumber puree to fried sea trout fillet with cauliflower, leek and baby potatoes to fillet steak and marinated duck breast Moroccan style. The vegetarian option was wild mushroom and spinach cake and desserts included a delicious rosemary and lavender panna cotta. The service is warm and friendly.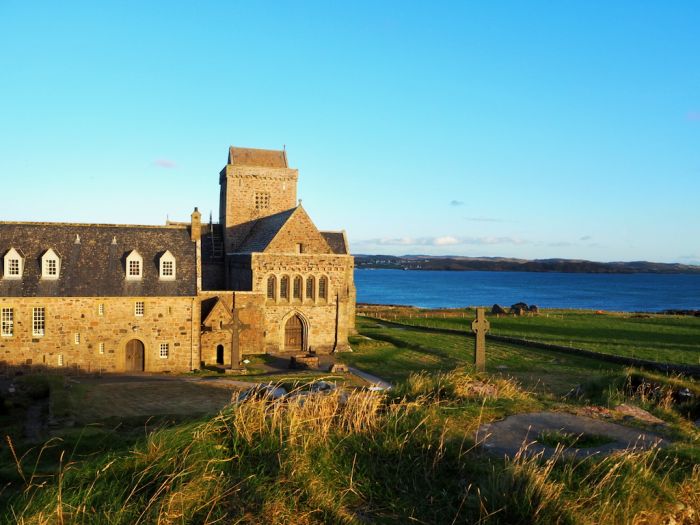 Columbia Hillen
If you want to walk around the island, take a look at the outer wall of the nunnery until you come across a strange, barely visible carving. This is known as "sheela na gig", an ancient figurative depiction of a naked woman with her legs spread, indicating female power and influence during the ancient Celtic times. A cemetery just a short walk away is believed to be the final resting place of the medieval kings of Norway, Ireland and Scotland, including the 11th century Shakespeare's King Macbeth.
Columbia Hillen
Don't forget to spend a few moments on the hill, a small grassy hill next to the abbey. Depending on which story you prefer, this is either the home of the island's fairies or the place where Columba meditated with angels. Either way, the rejuvenating silence is well worth it as you enjoy a stay at St. Columba's Hotel.