Robert MacIntyre, 44th in the world but relatively unknown on the US circuit, made strides on a remarkable eagle in Austin on the 18th
Scotsman Robert MacIntyre reached the final 16 of the WGC matchplay, eliminating World No. 1 Dustin Johnson by leading his group on a dramatic day in Texas.
Englishman Tommy Fleetwood survived a late horror to beat US Open champion Bryson DeChambeau and make progress as well.
Spaniard Sergio Garcia landed a hole-in-one to beat Englishman Lee Westwood in a sudden death play-off.
Northern Ireland's Rory McIlroy is out after a draw with Cameron Smith.
After defeating McIlroy and Australian Smith earlier this week, England's Ian Poulter won the group with a 100% record after beating American Lanto Griffin again.
In the match play tournament at the Austin Country Club, the 64 players are divided into 16 groups of four, with only the group winners reaching the next level.
"One of the best and happiest recordings I've made in my life"
Few would have helped 24-year-old MacIntyre advance to the next stage after being pulled in the group with Johnson – but the Scot made remarkable progress.
MacIntyre had to win the last one in his final round robin match against Adam Long and drove within two feet of the 18th hole. He received the eagle putt when he grabbed first place.
MacIntyre, who finished 41st in the 64-man event, scored a halftime with a brilliant performance against Johnson on Thursday after coming close to a shock victory to keep his hopes for progress on Friday alive.
He seemed to run out, however, after losing three to Long after nine holes.
MacIntyre struggled after the turn and went into 370-yard-18 as one. With his inspired tee shot, he helped bring in another important half.
That was enough to secure first place after Johnson lost to fellow American Kevin Na.
"I'm one and I have to win the hole. I played it last night and had the same mindset: try to win the hole," said MacIntyre, who will play Frenchman Victor Perez for the last 16.
"I hit probably one of the best and one of the happiest golf shots I've made in my life.
"It's massive for my confidence and massive for the future."
"I wanted us both to go through" – Garcia beats Westwood with a hole-in-one
England's Fleetwood was in control of its own destiny after winning and halving its first two games and was confident that if he beat DeChambeau, he would make progress.
After winning three on five, Fleetwood lost the 14th to an American birdie and putted three on the 15th to see his lead narrowed to one.
Fleetwood would have faced a play-off with Frenchman Antoine Rozner if he had cut the tie in half, but managed an unlikely par after a scatter on the last lap to take a hard-fought victory.
Seasoned European pair Garcia and Westwood needed a play-off to determine the winner of their highly competitive group – and it took an extraordinary moment to separate them.
On their fourth extra hole, the Spaniard made his progress by pocketing his tee-off on the 161-yard par 3.
"I hit a great nine-iron and knew it was right on the line, but I couldn't see it because of the glare. When we heard people cheering, it was really nice," he said.
When addressing his good friend Westwood, he added, "It's difficult because you want us both to get through."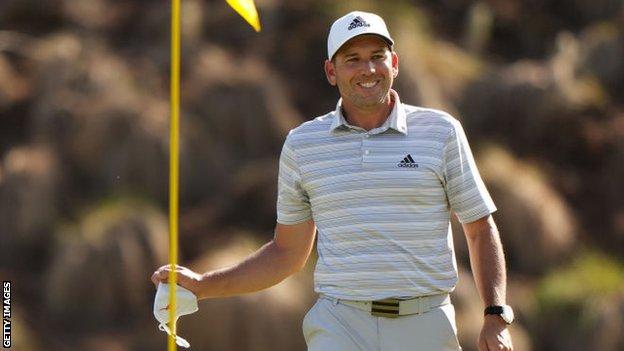 Garcia faced Westwood in the play-off after losing to Englishman Matt Wallace