(Image credit: Dark Ocean Design)
The ultra-modern Triton 13000/2 TE or Titanic Explorerwill be the deepest pressurized hull diving acrylic submersible ever made. Triton Submarines LLC, the leading manufacturer of submarines for yachts, founded this company in 2019 and is named after Triton's first manned mission in August 2019 to visit the RMS Titanic in 14 years. While the design has been released, Triton Submarines won't build the submersible until they have a buyer.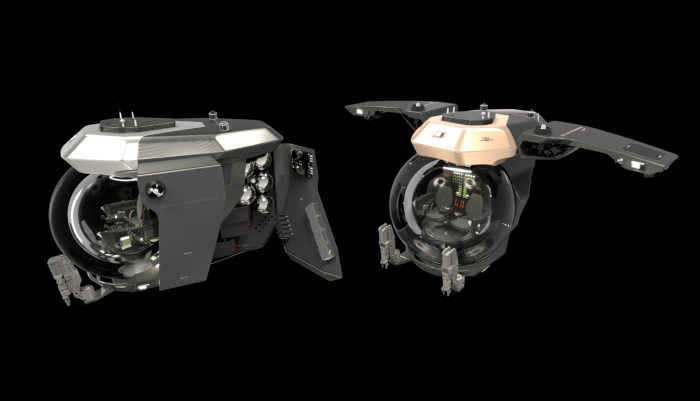 (Image credit: Dark Ocean Design)
With the ability to dive up to 4,000 m (13,123 feet) and for the first time ever to feature, Gull Wings are retractable and "equipped with lights and cameras so that you can illuminate your subject from essentially an angle while Picking them up from the other and even from the angle adjust the position of the wings for dexterity, control and maneuverability. This is a remarkable advancement, especially for a filmmaker, researcher or scientist using the vehicle, "said John Ramsay, Principal Design Engineer at Triton. The gull wings measure 6 m (19,685 ft) when fully deployed and when retracted out of the water the vehicle can be stored and serviced in a small garage.
In addition to the enormous payload of 500 kg, it has an industry-first acrylic sphere in which the passengers of the Triton Titanic Explorer sit. The development of manufacturing techniques that only belong to Triton has made this tremendous achievement possible as its thick and strong transparent acrylic becomes almost invisible after immersion in the deep sea. The "Silent Glide" function can be activated to enable smooth, curved curves that are perfect for working with film cameras. With a top speed of 3 knots, the drive system and the 4 x 5.5 kW directly driven auxiliary drives were designed in such a way that they do not disrupt life in the sea on the way.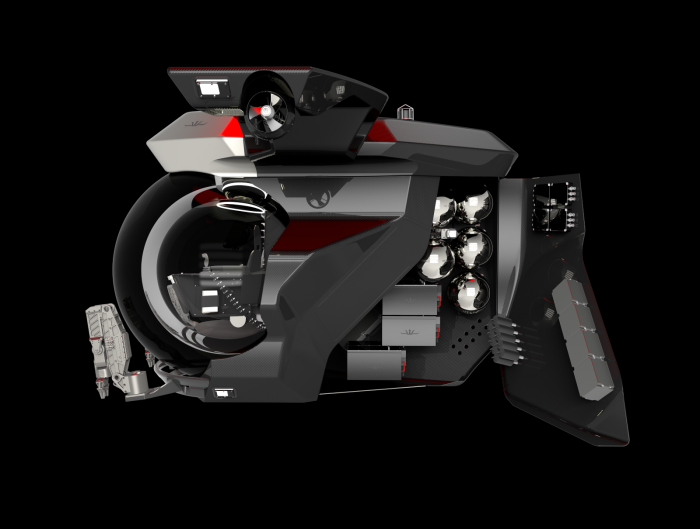 (Image credit: Dark Ocean Design)
"We found that it's not just about getting on a submersible, it's about the user experience and the things we can do once underwater," said Patrick Lahey, Co-Founder and President of Triton. "People are starting to think about submarines and ocean exploration in new ways, and we're excited to bring this technology to them."
For more information on the world's deepest acrylic submersible submarine, visit Here.